Support Officer
NLR is looking for a proactive Infolep & InfoNTD Support Officer with a passion for online learning and health.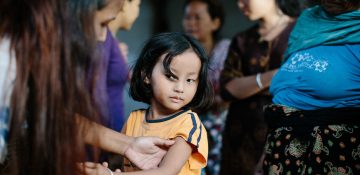 Do you want to make an impact for people who need it most?
Working for NLR -until No Leprosy Remains*, means working towards a world without leprosy and its consequences. NLR is an international NGO that has been one of the major change-makers in the fight against leprosy in the past 50 years.
A world without leprosy is a concrete and realistic goal. Our ambition is to achieve this in 2040 with an enthusiastic and committed workforce. We continue until No Leprosy Remains! Will you join us?
* In the Netherlands better known as Leprastichting
Infolep and InfoNTD are online platforms that provide access to information, publications and tools on leprosy and cross-cutting issues in neglected tropical diseases (NTDs), such as prevention, disability, inclusion, stigma and mental wellbeing, mHealth and WASH. It is essential for health professionals and researchers in the NTD field to cooperate and share knowledge. The urgent need for an up-to-date and centralised information platform led to the set-up of Infolep and InfoNTD. Visitors of the platforms are mostly scientists, programme managers, policy advisors, health professionals and students. The platforms are promoted through social media and international meetings and financially supported by NGO partners from the leprosy and neglected tropical diseases sector.
Infolep and InfoNTD are managed by NLR and housed in the NLR International Office in Amsterdam, the Netherlands.
NLR International Office employs 40 driven professionals with a heart for our mission: a world without leprosy. To strengthen the Infolep & InfoNTD team we are looking for a new:
Infolep & InfoNTD Support Officer (32-38 hours per week)
Together with the Infolep & InfoNTD Coordinator, the Support Officer is responsible for the content of the portals. Relationship management with peer organisations and users satisfaction are key components of this work.
What will you do as the Infolep & InfoNTD Support Officer?
Supporting the content dissemination of the portals: writing, collecting, selecting and uploading relevant information, documents and publications.
Proactive searching for "link-building" possibilities.
Maintaining and improving the portals and their services.
Developing and distributing a monthly newsletter.
Supporting the Coordinator in partnership management.
Promoting the portals via social media.
Your profile
Bachelor work and thinking level.
1-2 years of relevant work experience in international development or the public health sector is a prerequisite.
Affinity with online and digital work.
Excellent writing, editing and verbal communication skills in English and in Dutch (preferably).
Personal communication skills to manage relationships.
Result-oriented and strong attention to detail and quality.
We offer
Within NLR you are given the opportunity to develop yourself within an international and people-oriented working environment. We will initially offer you a contract for one year with the possibility of extension. Salary depends on experience (min. € 2.753 max. € 3.854 gross for 38 hours per week). You will receive 8% holiday allowance and 4% year-end bonus.
At NLR it is possible to work hybrid – home and office flexibility.
Join our team! 
Please respond before January 9 2023 and send your CV and motivation letter to
vacaturesNLR@leprastichting.nl.
For more information, please contact Roos Geutjes via mobile number +31 (0)6 4878 5169 or e-mail r.geutjes@infontd.org.
NLR strives for equal opportunities for everyone. We encourage people with a disability to apply. Strong preference will be given to candidates who are based in the Netherlands – or willing to relocate – and who have permission to work in the country. Acquisition in response to this vacancy is not appreciated.
About NLR
NLR wants to end the age-old disease of leprosy once and for all. Still every year 200.000 new leprosy patients are diagnosed worldwide and millions of people live with the serious consequences of leprosy due to discrimination and exclusion. This is unnecessary, because timely detection and treatment can prevent further infection. NLR is an international NGO that aims for a world without leprosy and its consequences. In our strategy we focus on Zero Transmission, Zero Disability and Zero Exclusion.
NLR is a strong believer in collaboration. NGOs with the same mission in Brazil, Indonesia, India, Nepal and Mozambique are part of the NLR Alliance and are supported by our international office based in Amsterdam. As an active partner in international networks such as the Global Partnership for Zero Leprosy and the International Federation of Anti-Leprosy Associations (ILEP), together we make a significant impact towards our mission. NLR is a global forerunner in conducting and promoting leprosy research and driving evidence-based innovation.
About 40 people work in our international office in Amsterdam and 200 total globally. NLR, in the Netherlands better known as Leprastichting, is an ANBI with CBF recognition and is supported by 45,000 donors and leading institutional donors including the Nationale Postcode Loterij.
For more information visit our portals: https://infontd.org and https://leprosy-information.org and our websites: https://nlrinternational.org and www.leprastichting.nl