International Consultant Advocacy & Lobby
To strengthen our advocacy and policy influencing strategies and capacities we are looking for a temporary Advocacy and Lobby Expert (around 20 days in a period of 3 months)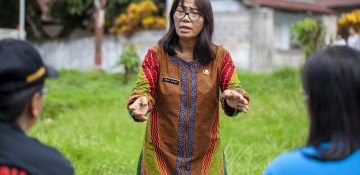 Do you want to make an impact for people who need it most?
NLR – until No Leprosy Remains (In the Netherlands better known as Leprastichting), strives to achieve a world without leprosy by 2040. A world in which leprosy no longer causes victims with severe physical and psychological consequences. International leprosy control has proven to be effective. Effective through the successful treatment of leprosy patients. Effective through preventive treatment of close contacts to stop transmission.  Effective through education and training of health workers and (ex) leprosy patients to prevent disability, stop discrimination and promote social inclusion.
NLR works closely together with partners and within international networks such as the International Federation of Anti-Leprosy Associations (ILEP), Global Partnership for Zero Leprosy and the WHO. We will foster and energize those collaborations, and we share our ambitions with all who work towards zero leprosy. To realize this an advocacy approach supporting the implementation of our multi annual strategy is required. We believe that ambitious goals can inspire and encourage us along this journey. Will you join us?
To effectively influence policies and practice as part of our strategic leprosy goals, an NLR Alliance-wide advocacy strategy will be developed at the start of the new strategic period (2024-2028). With the help of an advocacy and lobby consultant, NLR wishes to develop from ad hoc advocacy activities to a coordinated and targeted approach in support of our main goals:
National governments accelerate the elimination of leprosy;
Prevention of leprosy is scaled up;
Persons affected by leprosy enjoy equal rights and opportunities.
What will you do as an Advocacy and Lobby expert?
Assess the current capacity on advocacy, lobby and policy influencing within the NLR Alliance.
Organize and facilitate a workshop in which our NLR Advocacy Strategy is set-up around actionable goals and priorities.
Report on an implementation trajectory of an NLR advocacy and policy influencing strategy with clear goals and required capacity, competencies and skills to ensure goal oriented advocacy, lobby and policy influencing
Advise on a monitoring and evaluation framework to assess the impact of advocacy and policy influencing efforts.
Recommend on training and capacity building support to our staff on advocacy, lobby and policy influencing and how to best embed advocacy within our organisation.
Your profile
The ideal candidate fort his position should have the following qualifications:
At least 5 years of experience in advocacy and policy influencing in the international arena of the global health sector.
Experience working with international organisations, NGOs and government agencies.
A master degree in public health, international relations, political science or a related field.
Excellent communication, writing and presentation skills.
Strong analytical and strategic thinking skills.
A proven track record in developing and implementing successful advocacy and policy influencing campaigns/activities.
We offer
A consultancy assignment for 3 months, approximately 20 days in total.
A good working atmosphere with highly motivated colleagues, dedicated to fight leprosy.
An international organization in full swing.
Interested?
Interested candidates are invited to submit an application letter and full curriculum vitae no later than 6 August, 2023 by email to vacaturesNLR@leprastichting.nl.
The first interview is scheduled for August 10th.  Should you be unable to attend on this date, please let us know. For more information contact Sylvia Castelijn, HR adviser, at S.Castelijn@leprastichting.nl.
NLR strives for equal opportunities for everyone. We encourage people with a disability to apply.  Acquisition in response to this vacancy is not appreciated.
About NLR
NLR wants to end the age-old disease leprosy once and for all. Still every year 200.000 new leprosy patients are diagnosed worldwide and millions of people live with the serious consequences of leprosy due to discrimination and exclusion. Unnecessary, because timely detection and treatment can prevent further infection. NLR is an international NGO that aims for a world without leprosy and its consequences. In our strategy we focus on Zero Transmission, Zero Disability and Zero Exclusion.
NLR is a strong believer in collaboration. NGOs with the same mission in Brazil, Indonesia, India, Nepal and Mozambique are part of our alliance and are supported by our international office based in Amsterdam. As an active partner in international networks such as the Global Partnership for Zero Leprosy and the International Federation of Anti-Leprosy Associations (ILEP), together we make a significant impact towards our mission. NLR is a global forerunner in conducting and promoting leprosy research and driving evidence-based innovation.
About 40 people work in our international office in Amsterdam and 200 total globally. NLR, in the Netherlands better known as Leprastichting, is an ANBI with CBF recognition and is supported by 45,000 donors and leading institutional donors including the Nationale Postcode Loterij.