Fundraiser for international foundations
NLR is looking for a Freelance Fundraiser for international foundations - maternity leave cover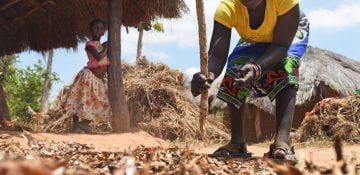 Do you want to make an impact for people who need it most?
Working for NLR – until No Leprosy Remains*, means working towards a world without leprosy and its consequences. NLR is an international NGO that has been one of the major change-makers in the fight against leprosy in the past 50 years.
A world without leprosy is a concrete and realistic goal. Our ambition is to achieve this in 2040 with an enthusiastic and committed workforce. We continue until No Leprosy Remains! Will you join us?
*In the Netherlands known as Leprastichting
To cover for maternity leave we are looking for a:
Freelance Fundraiser for international foundations
The freelance role will commence end March until end August 2022, for 20 hours/week.
Join the Institutional Fundraising Unit in raising funds for a very concrete objective: a world without leprosy by 2040, by writing and coordinating funding applications for international foundations.
What will you do as Freelance Fundraiser for international foundations:
Develop global cases for support for three of NLR's fundraising priority topics which include stigma/discrimination, disability inclusion, gender and access to health care, and capacity development health workers.
Write and coordinate the submission of funding applications together with colleagues in the Netherlands and within the NLR Alliance partners in Brazil, Mozambique, India, Nepal, Indonesia, and Nigeria. Coordinate with external consortium partners where necessary.
Donor cultivation of profiled prospects.
Review proposals written by NLR Alliance partners.
Your profile
You are experienced in writing cases for support and funding applications for international foundations
You have excellent writing skills in English
You proactively translate ideas into action and enjoy bringing the right people together to reach successful fundraising results
Your hands-on attitude wants to get things done
Cultural sensitivity comes as second nature to you.
You can visit NLR's Amsterdam office regularly.
Join our team!
For more information, please contact Lesley White, Senior Institutional Fundraiser on +316 21364771 or l.white@nlrinternational.org
NLR strives for equal opportunities for everyone. We encourage people with a disability to apply. Strong preference will be given to candidates who are based in the Netherlands – or willing to relocate – and who have permission to work in the country. Acquisition in response to this vacancy is not appreciated.
About NLR
NLR wants to end the age-old disease leprosy once and for all. Still every year 200,000 new leprosy patients are diagnosed worldwide, and millions of people live with the serious consequences of leprosy due to discrimination and exclusion. Unnecessary, as timely detection and treatment can prevent further infection. NLR is an international NGO that aims for a world without leprosy and its consequences. In our strategy we focus on Zero Transmission, Zero Disability and Zero Exclusion.
NLR is a strong believer in collaboration. NGOs with the same mission in Brazil, Indonesia, India, Nepal and Mozambique are part of the NLR Alliance and are supported by our international office based in Amsterdam. As an active partner in international networks such as the Global Partnership for Zero Leprosy and the International Federation of Anti-Leprosy Associations, together we make a significant impact towards our mission. NLR is also a global forerunner in conducting and promoting leprosy research and driving evidence-based innovation.
About 40 people work in our international office in Amsterdam and 200 in total globally. NLR, in the Netherlands better known as Leprastichting, is an ANBI with CBF recognition and is supported by 45,000 individual supporters and leading institutional donors including the National Postcode Lottery.
For more information visit our websites: https://www.nlrinternational.org and  www.leprastichting.nl