Project Leader Technical Capacity Building (16h)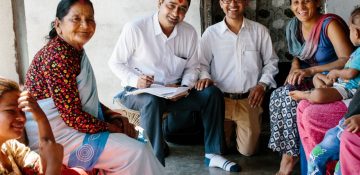 Every year over 200,000 new leprosy patients are recorded worldwide. NLR – until No Leprosy Remains, in the Netherlands better known as Leprastichting, is an international NGO that aims for a world without leprosy and its consequences. In our strategy we focus on Zero Transmission, Zero Disability and Zero Exclusion. NLR forms an Alliance with NGO's in Brazil, Indonesia, India, Nepal and Mozambique that operate under the same brand and with the same vision and mission. The International Office is based in Amsterdam
NLR believes that collaboration is crucial. That is why we work closely together with other organizations and international networks such as ILEP, Global Partnership for Zero Leprosy and the WHO. NLR is a global forerunner in conducting and promoting leprosy research and driving evidence-based innovation. At NLR, we all work with a lot of energy and enthusiasm. We encourage everyone, who feels connected to our mission and fits the profile below, to apply and be a part of an innovative global organisation.
Project Leader Technical Capacity Building (16h)
As Project Leader 'Technical Capacity Building in Action' you are responsible for the launch and inception phase of this project. The aim of the project is to work towards an NLR Alliance in which our country offices have access to medical expertise and sufficient technical staff who are fully equipped to perform their role in our strive towards Zero leprosy. Technical capacity building refers to continuous learning and development activities that should be embedded in the day-to-day work.
It is Important that the tasks and responsibilities below energize you and speak to your mindset. We are looking for a person who is able to form connections on different levels, and operate with these connections on various levels. Also, this project requires you to have knowledge of medical NGO's, experience in managing international projects and overall experience in operating on international and cultural level.
Tasks and Responsibilities
DEVELOPMENT AND LEARNING
Is responsible for the development and implementation of an NLR Learning and Development Strategy for continuous Technical Capacity Building, including its supporting tools;
Advises managers within the NLR International Office and the Country Offices on how to integrate learning and development activities into their day-to-day leadership;
Advises the Management Team and Country Directors on how to integrate continuous learning into their day-to-day management;
Helps to create an organizational culture and leadership style that promotes and enables continuous learning in a professionalized and standardized way by the end of the first year;
Delivers a draft of the NLR Learning and Development Strategy after 4 months in the inception phase.
ENGAGEMENT AND COMMUNICATION
Pro-actively involves and engages the NLR employees in the International Office in Amsterdam and the Country Offices in the planning, development, and implementation of NLR Learning Strategy;
Enables communication between all parties involved regarding their input and connects these over different levels during the planning and development phase
PROJECT MANAGEMENT
Delivers a detailed project plan for the inception phase (year 1) within the first month, taking into account that at least 80% of the project plan for the inception phase is achieved by 2021;
Builds a project team together with the Head of Medical Technical department within the first month;
Provides leadership to the project team assigned to the Project Technical Capacity Building in Action;
Coordinates and guides the project team in transforming the developed plans into actions;
Makes sure the project team stays on course, guards the overall quality and progress of the project implementation and adjusts plans if and when needed;
Is responsible for the (financial) management of the Technical Capacity Building in Action Plan;
Provides two progress reports within the inception year;
Uses Project Management methods in a flexible way to ensure innovation and entrepreneurship in the Project;
Delivers a detailed plan and accompanying budget for the (2nd – 5th) years ahead of the project at the end of the inception phase, taking into account the input of internal and external stakeholders;
Delivers a report at the end of the first year, describing the achievements made during the inception phase.
The Project Leader should
Have a university (WO) education, preferably have a medical, public health or other relevant biomedical or social science degree;
Have proven experience with the development- and implementation of Learning and Development strategies and -tools as well as a demonstrated ability to cooperate and maintain effective relationships with key stakeholders;
Have proven experience working with international NGOs, preferably in the health sector;
Have experience with and/or insight in staff requirements for conducting social, public health and epidemiological research;
Be fluent in English and Dutch both spoken and written, and preferably also in Portuguese;
Be willing and able to travel internationally.
What we offer
Gross monthly wage between €4.243 en €5.928 (based on 38h)
Laptop
Contract for at least a year with outlook on extension
4% year-end bonus
25 vacation days + 5 extra free days
Travel allowance
Flexibility in hours and work space
Contribution of nearly 60% to your pension fund
Think in opportunities
Share your motivation and resume before the 3rd of January through 2021 vacaturesNLR@leprastichting.nl.
The first interview will take place on the 6th of January through Microsoft Teams or Zoom. If you are unavailable on this date, please mention this in your application and suggest an alternative date.
NLR strives for equal opportunities for everyone, we encourage people with impairments to apply for this job
Questions about the vacancy can be directed to Liesbeth Mieras, the Head of the Medical Technical Department L.Mieras@NLRInternational.org
Look for more information on our website: leprastichting.nl and www.nlrinternational.org.